Slavery in the U.S. is a central topic in many of the Wilderness novels.  'The Freeman family, headed by Galileo and Curiosity Freeman, manumitted slaves, along with their children and grandchildren, play pivotal roles in the entire series.
---
The Dutch Slave Trade in New Amsterdam
From Wikipedia:
The enslavement of African people in the United States began in New York as part of the Dutch slave trade. The Dutch West India Company imported eleven African slaves to New Amsterdam in 1626, with the first slave auction held in New Amsterdam in 1655. With the second-highest proportion of any city in the colonies (after Charleston, South Carolina), more than 42% of New York City households held slaves by 1703, often as domestic servants and laborers. Others worked as artisans or in shipping and various trades in the city. Slaves were also used in farming on Long Island and in the Hudson Valley, as well as the Mohawk Valley region. […]
Gradual Abolition/Manumission
The New York Manumission Society was founded in 1785, and worked to prohibit the international slave trade and to achieve abolition. It established the African Free School in New York City, the first formal educational institution for blacks in North America. It served both free and slave children. The school expanded to seven locations and produced some of its students advanced to higher education and careers. These included James McCune Smith, who gained his medical degree with honors at the University of Glasgow after being denied admittance to two New York colleges. He returned to practice in New York and also published numerous articles in medical and other journals. By 1790, one in three blacks in New York state were free. Especially in areas of concentrated population, such as New York City, they organized as an independent community, with their own churches, benevolent and civic organizations, and businesses that catered to their interests.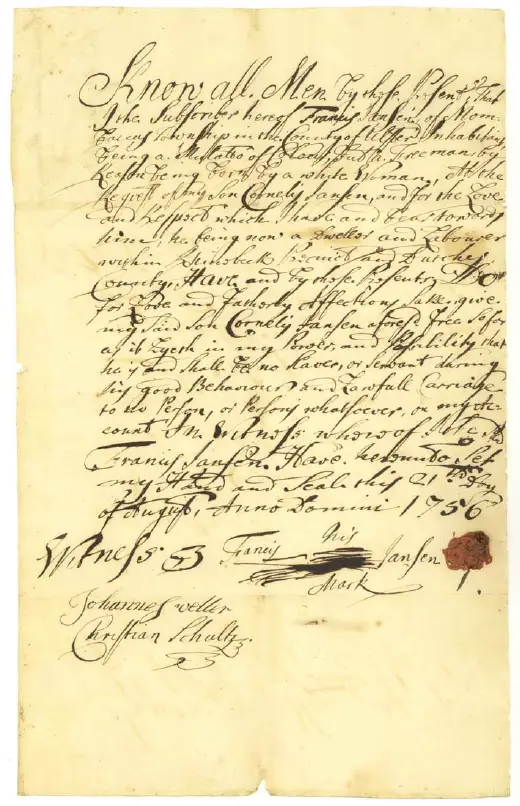 Into the Wilderness
In the course of the first novel Nathaniel and Elizabeth Bonner encounter a runaway slave living deep in the Endless Forests.  A man of about fifty, his name is Sam. He has contracted blood poisoning and is near death when they come across him.  He asks Elizabeth to get word to a slave  who works as a smithy in Johnstown. His real name is Joshua, about thirty years old; he is Sam's son, and he plays a secondary roll in the novels.
Lake in the Clouds
This novel, set in 1802-1803, deals in part with the underground railway that made it possible for slaves to escape their masters and travel from New York City to freedom in Canada.  The Freemans' son Manny is employed at the African Free School in Manhattan. Working with the Libertas Society, he arranges the escape of one or two prisoners every few months.
In this novel Selah Voyager Manny's wife, runs away from her master and is headed north to Paradise, where Curiosity and Galileo will see her on the way to a community of freed slaves living at Red Rock in the Endless Forests. Selah, heavily pregnant, falls ill when she reaches Paradise, and the Bonner family commits to seeing her recover and will help her reach Red Rock. Much of the novel deals with this group of escaped slaves and blackbirders, men who earn a living by hunting down and returning escaped slaves to their masters.
The Gradual Manumission Act is also relevant to this novel.
Queen of Swords
Set in Spanish Florida and New Orleans in 1813-1814, one of the major topics of this novel is slavery. In New Orleans slavery was distinctly different – but just as dehumanizing and cruel – as it was in the rest of the country. What set New Orleans apart was the well established parallel social structure for Free People of Color.  A number of freed slaves and escaped slaves play a role in the novels.
---
The images below are from Accessible Archives, where a great deal of useful information about slavery is available. From their 'about us' page: Accessible Archives, Inc. was founded in 1990 with the goal of utilizing computer technology to make available vast quantities of archived historical information, previously furnished only in microformat, hard copy form or as images only. In pursuit of this vision, primary source material has been selected to reflect a broad view of the times, and has been assembled into databases with a strict attention to detail allowing access to specific information with pinpoint accuracy. Our online full-text search capability and digital imaging permits the user to search and manipulate this information in ways never before possible.
Source for these images:
Iain Burns for MailOnline. "Humans on sale: Haunting photographs show the commonplace auctions held across America where businessmen fought bidding wars over black slaves."
Useful sources
In New Orleans the McKenna Museum of African American Art and Le Musée de f.p.c. tell the story of free people of color, often called f.p.c., who were those of African descent free before the Civil War. The museum contains slave documents and other artifacts to illustrate the lives of free people of color, a large population of whom lived in New Orleans.